You will be surprised how many people do not know where the Central African Republic (RCA) is. The general lack of critical thinking is alarming!
Now, let me be clear. When my Mom - who went on the same volunteer trip two years ago - told me about Bangui, Central African Republic I had no idea where it was. Bangui?!? Huh? But here's what I did know right off the bat…it must be in the middle of the continent of Africa. Which is basically where the Central African Republic (RCA) is. I don't expect people to know which countries (no, not states) surround RCA but if you use your head you should be able to figure out where it is. Just saying. But just in case you're not sure, check out the map below.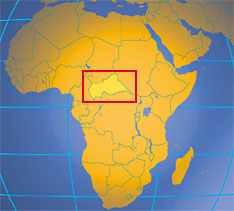 In English,  Centrafrique is Central African Republic or Republic of Central Africa not really sure what the official name is. I think Centrafrique and RCA are the official French ways of referring to the region and us Amuuuricans call it the Central African Republic or CAR. Personally I think Centrafrique sounds beautiful and is wonderfully short but for the purposes of this post I'll go ahead and use RCA.
It's taken me a while to figure out what I wanted to write about, how I wanted to "curate" my 10 days in RCA. Frankly, one post isn't enough to impart all the amazing experiences I had so this post will be one of many. As for photos and footage, I'll be posting some collages with narrative later. Right now I'm busy compiling, editing, and watermarking all of the photos. I don't want interweb marauders using my photos for their own fundraising agendas thank you very much. 
I guess I should start by saying that I have never been to Africa…ever. I'm first generation African-American. My parents were born in Nigeria and emigrated here; my dad in the 70s and my mom in the 80s so the opportunity to be on African soil was really exciting for me. I should also say that what I did wasn't particularly brave or harrowing but it was fun, exciting, exhausting, concerning, and sometimes overwhelming. In order to go, I raise just about $2500 of the $3275 total cost. Which is a testament in itself because I have never fund-raised for anything and it was amazing to see college friends, family friends, people I worked with in advertising, and complete strangers donate money to my cause and allow me to go on this life-changing journey. So if you donated…a HUGE thank you. And if you would still like to donate (yes I'm still accepting donations), check out my CrowdRise page for more details. 
Flying to the RCA was pretty ridiculous. Let me tell you…LAX sucks and Delta sucks even more: they are horrid and do not seem to train their people on how to handle international flights. I got to LAX at 6/6:10am for an international flight that left at 8:10. There were 7 of us going from LAX. To make a long story short, the people at the front desk legitimately had no idea how to do baggage tags for multiple stop international flights and took and hour for just two of our party of seven. Consequently, only five of the seven made it to the 8:10am flight. In general I abhor Delta but when you're flying through France to get to Africa and have a LOT of baggage there aren't many options. 
So from LAX to Bangui it's 24 hours of travel with stops in Cincinnati and Paris. In Cincinnati we added a volunteer and another in Paris so that brought our total to nine. On the way back, same deal but we stopped in Atlanta for another egregious overload of bag checks. 
We arrived in Bangui the next day at around 6:30/7pm. I will tell you one thing about Bangui that rings true during that time of year…it is HOT. I mean HOT. I mean humid and HOT. I mean over 80% humidity in 95 degree weather. Oy vey!
Just a quick note for you Americans not used to traveling internationally outside of say Canada, France, Germany, and the UK. Apparently it's common knowledge that officials in other countries don't like it when people take photos of their official buildings or their airports. In RCA (and probably most African countries) people are forbidden to take photos of the airport or any buildings that house governors, presidents, or other elected officials. Why? Because you might be planning a coup, that's why. I did manage to snap a blurry photo of the airport but, that's it. 
This might be a good time to mention that there is currently only ONE commercial flight to Bangui per week. As in, if you miss the plane coming from France or leaving Bangui for France, you're stuck for another week. Some of our equipment bags were left in France (thanks again Delta) but luckily there was an Air Kenya flight coming in the next day that picked up our stuff from Paris and brought it to Bangui. 
Because the hotel we were staying at did not offer a complimentary breakfast, we all split the responsibility of bringing snacks and breakfast food. Needless to say, between the nine of us, we were pretty well stocked. The immense heat really makes you dehydrated so most of the time we were replenishing fluids and munching on protein and granola bars. Each evening, our hosts - a pastor and his wife - would feed about 10-15 people with literally a buffet of food. Delicious African food and all home made.
Shoot. I didn't take any photos of the food!
Well I guess it would suffice to say that our evening meals consisted of different kinds of rices, stews, fried fish, stewed fish, and chicken. As traditional African fare we used pounded yam (which comes in powder form and is made into a dough of sorts) to eat the different types of stew. Before dinner we would snack on fresh mangoes which grow on trees all around Bangui during this time of year. They are the most sweet and delicious mangoes you will EVER eat. And I should know because I LOVE mangoes! I started the trip trying to be all cute and neat with the way I ate the mangoes…you know, using a knife to peel off the skin and cutting around the pit. Psssh! By the time I hit day three I was tearing into the mangoes with my teeth. By that time I had also gotten used to the crazy amount of humidity. Suddenly 78 felt "cool".
The first full day in Bangui was spent scoping out the site and figuring out how we would use each room and where we would need generators. Another thing typical to African and Caribbean countries? Generators and lamps which crucial necessities for frequently intermittent light and power.
There was no running water or electricity in the facility we were using so we relied on the generator to supply light to the several rooms of the rural health clinic we were taking over for the week. And yes, the lack of running water applied to the bathroom situation. Which leads me to my next point about my trip to Africa: it is crucial for girls to either have strong quads or have mastered the frat house squat (don't act like you don't know what I'm talking about) before venturing into the rural areas of any 3rd world country. 
So where are we in my trip at this point? Well we left LA on Tuesday March 20th. Got to Bangui the evening of the 21st and we were scoping out the rural clinic in Bimbo on the 22nd. The clinic opened at 9am on the 23rd. There were two of us on registration with one interpreter and one "protocol" attendant. The protocol people did not speak English but helped things run smoothly with the patients. Three nurses overlooked the incoming patients to check vitals before they were sent to one of the 5 doctors we had on staff. So we had eight that came from the US, one that met us in France, two doctors who came from Nigeria, and three doctors from the Bangui area. So 14 volunteers total. I was on registration along with the son of the couple running the pharmacy. We were the youngest on trip at 23 and 22, respectively. 
While we were busy scoping out the pop-up clinic space, we came across a young lady with her son who had been having diarrhea for over 3 days. I learned from a Peds doctor who came that diarrhea can be especially dangerous for young children and symtoms lasting for over 48 hours should be concerning. Luckily I happened to stuff loads of Crystal Light strawberry kiwi packets with electrolytes in my luggage and had some in my fanny pack. Electrolytes are depleted during diarrhea which can lead to dehydration and exhaustion. But say I didn't have those Crystal Light packets? 
Well, here is a quick and dirty way to eliminate diarrhea. You may not ever use it in a developed country but if you are caught without accesss to Pepto Dismol or Immodium try this … or if you're a desperately poor 20-something living on your own in the US and you can't make it a store "in time"…
I call it the "S Cubed" or "Triple S" solution. The official medical term is Oral Re-hydration Solution or ORS. 
It's a simple "S"ugar "S"alt Water "S"olution. 

6 level teaspoons of Sugar
1/2 level teaspoon of salt
1 litre of clean drinking water

Stir/shake until sugar and salt dissolve. Tada! Buh bye diarrhea!
Oy. This post is already really long. Gosh, there is so much to talk about! 
Well this is probably a good place to pause for now. 
I'll pick up on day one of our clinic in my next post on Bangui. 
But I can't leave you without any photos. Check out the new background of my about.me page. The little boy in my arms -believe it or not- is three years old. Yes, I know he looks like a one year old but that's what a severe case of malnutrition looks like. He was brought in by a neighbor who took him in because he is an orphan. He can't walk and has trouble crawling because of the lack of nutrition has effected the development of his muscles. We gave the women who brought him in money, food, and vitamins. With no family to call his own I really wanted to bring this precious cargo back home with me but then I remembered I was unemployed. Whomp! 
He came in everyday and by the last day he was grabbing cookies right out of my hand! Every time I look at the pictures of this little boy I keep wishing I could have adopted him but I'm sure I'll get the chance to adopt a needy child when the time is right!